901 North Edgelawn Drive
Aurora, Illinois 60506
Sister Mary Megan Farrelly, OP, Principal
(630) 896-0831
New gymnasium addition (1999)
Theater remodeling (2001)
and academic wing (2003)
Construction Cost: $4,750,000.00
Assignment
Our firm was assigned the task of designing an expansion of the new educational facilities: new gymnasium, classrooms, library, and theater remodeling.
Design Approach
Due to fund raising and availability of funds, the master plan for growth phased the construction projects into three separate distinct projects over a five-year period. The new gymnasium opened in 1999; the new remodeled theater opened in 2001, and the classroom and library wing opened in the fall of 2003.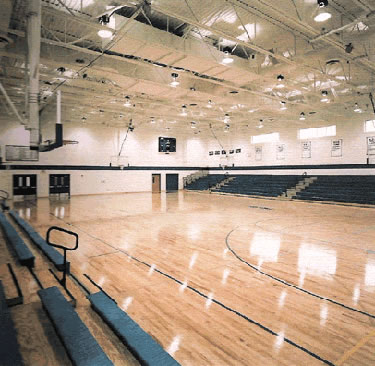 Amenities
The new gymnasium provides seating for 1,000 spectators, two full size practice basketball and volleyball courts, expanded parking, retention pond, lockers, concession and fitness center. The gymnasium design included provisions for expansion of the academic and theater wing with expanded electrical, mechanical, and sprinkler systems. The new theater wing was designed within the walls of the existing gymnasium walls including seating for 575, state of the art theater/stage with programmable control booth and lighting, and 3,500 square feet of storage below radial seating. The new academic wing included five classrooms, new library and computer classroom with state of the art computer/data systems.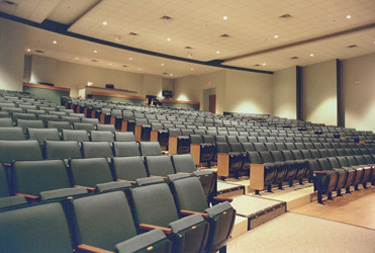 Assignment
Create new theater within the walls of Rosary High School's old gymnasium.
Amenities
Those who remember the "old gymnasium" can't believe their eyes when they enter the newly remodeled theater. A state of the art theater/stage was designed within the walls of the old gymnasium. The seating area was stepped in concrete from the existing floor to the bleacher balcony of the old gym, creating a radial seating for 575 and providing 3,500 square feet of stage below. A tapered acoustical ceiling stepped in drywall and trimmed in oak, hide the new mechanical systems that create a comfortable environment for the audience. A programmable, state of the art control booth controls the lighting, stage lighting and sound systems.